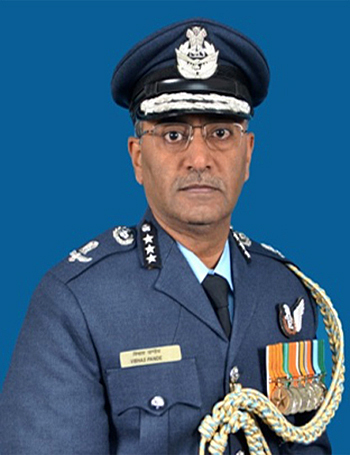 Air Marshal Vibhas Pande
Air Marshal Vibhas Pande VSM has taken over as Air Officer-in-Charge Maintenance of Indian Air Force with effect from January 1, 2020.
Air Officer was commissioned as Aeronautical Engineer (Mechanical) in IAF on 29 Aug 1984. He started his career as Engineering Officer in IAF with fighter aircraft and later also gained experience in maintenance operations on transport aircraft and helicopters. He has flown nearly 1200 hrs on helicopters as Flight Engineer and has also been Air Force Examiner for Rotary Wing aircraft.
Air Officer is a Post Graduate in Reliability Engineering from IIT Powai, Mumbai. He is also an alumnus of College of Air Warfare and National Defence College.
Air Officer has held the appointments of Senior Production Engineer at 11 Base Repair Depot, Commanding Officer of Air Armament Inspection Wing, Khamaria, Directing Staff at College of Air Warfare and Command Engineering Officer at HQ WAC. He has also spearheaded indigenisation drive in IAF as CO of 1 CIMD. Some of the key appointments held by him include command of a premier Base Repair Depot, Senior Maintenance Staff Officer at HQ EAC and ACAS Eng (T&H) at Air HQ. Prior to assuming his present appointment, he was holding the appointment of Director General (Aircraft).