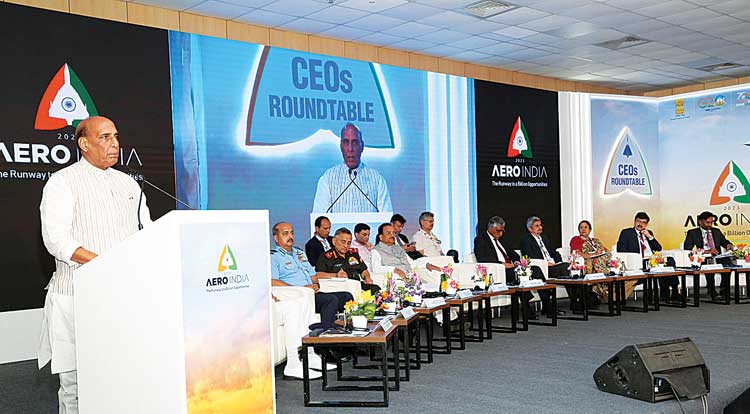 Defence Minister Rajnath Singh addressing over 70 CEOs of local and global Original Equipment Manufacturers (OEMs) during a Round Table
Defence Minister Rajnath Singh has called upon Indian & global industry leaders to support the Government's endeavour to design, develop and manufacture cutting-edge products, using critical technologies, within the country to attain complete 'Atmanirbharta' in defence, with the overall objective of achieving shared global peace and prosperity. He was addressing over 70 CEOs of local and global Original Equipment Manufacturers (OEMs) during a Round Table organised as part of Aero India 2023 in Bengaluru on February 13, 2023.
Rajnath Singh asserted that India does not want to remain just an assembly workshop and is looking to engage with friendly countries in defence and security based on sharing expertise and capabilities under the 'Make in India, Make for the World' vision. He assured industry leaders that the government is open to new ideas and is committed to fully harness the energy, entrepreneurial spirit and capability of the private sector in the area of defence production. He extended government's full support towards removing obstacles and facilitating businesses. Rajnath Singh voiced the Government's resolve of nurturing a vibrant and world-class defence manufacturing industry, terming it as the key driver of Indian economy. He enumerated a number of far-reaching reforms undertaken by Ministry of Defence to create a business-friendly climate in the country. These include setting up of defence corridors in Uttar Pradesh and Tamil Nadu; simplification of industrial licensing processes; hike in cap on FDI in defence; opening of government trial and testing facilities for the private sector; increase in capital outlay for defence in Budget 2023-24 and launch of Technology Development Fund and Innovations for Defence Excellence. He said, these reforms will enable Indian defence products to compete with established global defence and aerospace companies.
The Minister stressed that indigenisation is the mantra for India today, unlike in the past when import was the default option. He appreciated the growing enthusiasm & greater participation of private players in defence production and expressed confidence that the CEOs Round Table will sow the seeds of successful new ventures and partnerships, boost investment, expand indigenous manufacturing and bolster aerospace and defence ecosystem in India. He stated that the partnership between Government and the Industry is based on equality & mutual trust.
The CEOs Round Table was organised on the theme 'Sky is not the limit: opportunities beyond boundaries'. The participating companies included Boeing, Lockheed Martin, Israel Aerospace Industries, General Atomics, Liebherr Group, Raytheon Technologies, Safran, General Authority of Military Industries, Hindustan Aeronautics Limited, Bharat Electronics Limited, Bharat Dynamics Limited, BEML Limited, Mishra Dhatu Nigam Limited, Larsen & Toubro, Bharat Forge, Dynamatic Technologies and BrahMos Aerospace.
This platform was to forge partnerships between domestic and global Industries of the aerospace and defence sector to address the present and future global needs and discuss the importance of supply chain strategy and operations as the world deals with the aftermath of the pandemic and global disruptions. More than 75 companies, including 28 foreign OEMs from 15 countries and domestic companies & DPSUs participated in the discussion. There was official participation from Countries of Sudan and Saudi Arabia. The significance of roundtable discussion as "dialogue between equals" was emphasised. The participants were apprised of the opportunities in the defence manufacturing industry and continued pro development and pro-growth policies offered by the country through the DPSUs, MSMEs and private Industries.
Many foreign OEMs made announcements regarding their plans for investments and collaborations including Safran, Boeing, Collins Aerospace, Pratt & Whitney and Thales in defence and aerospace sector. General Atomics and Bharat Forge announced to deepen their collaboration in aircraft components and parts. Hensoldt announced Design/TOT and IPR transfer of obstacle avoidance system for Indian Helicopters and co development of Advanced Multi Sensor Electro-optics Airborne Gimbals for Indian and world market. CEOs of domestic companies including Bharat Forge, L&T and Mahindra Defence Systems shared their views on major reforms and their impetus for robust defence system under Atmanirbhar Bharat.
The CEO Roundtable engaged industries for co-development and co-production to make India a Commercial Manufacturing Hub and base for global product support, while exploring Indian and Global market. Chief of Defence Staff General Anil Chauhan, Chief of the Air Staff Air Chief Marshal V.R. Chaudhari, Chief of the Naval Staff Admiral R. Hari Kumar, Chief of the Army Staff General Manoj Pande and Defence Secretary Giridhar Aramane also attended the Round Table.