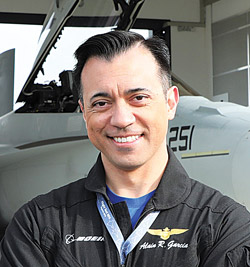 Alain Garcia
SP's ShowNews (SP's): How does F/A-18 compare with its rival Rafale-Marine Fighter and what makes the F/A-18 suitable for the Indian Navy?
Alain Garcia (Garcia): The F/A-18 Super Hornet Block III will be a transformative capability for the Indian Navy (IN), the way that the P-8I has been. With these aircraft, Super Hornet, the Indian Navy will get a proven, multi-role and carriercompatible fighter while benefiting from the investments, upgrades and knowledge that come from the US Navy's extensive naval aviation ecosystem.
One of the main benefits of this is that the aircraft has the ability to fold its wings, allowing for better utilisation of deck space on the aircraft carrier. Boeing has conducted a thorough study and analysis that optimises the number of Super Hornets that can fit aboard INS Vikramaditya and INS Vikrant, as well as optimises the cyclic operations from those carriers leading to high sortie generation rates.
Boeing has also developed a capability specifically for the F/A-18 Super Hornet Block III that will allow for the faster movement of the aircraft between the flight deck and hangar deck without having to remove or modify any part of the aircraft. This capability is compatible with the current elevator/lift configuration aboard Indian aircraft carriers. Another important fact to note is that the two-seater carrier-compatible variant of the Super Hornet offers several unique advantages to the IN including flexibility, higher utilisation of the fleet, and the ability to embark on certain missions from the carrier that benefit from having the second crew member.
Additionally, two-seater F/A-18 Super Hornets can be used as trainers (ashore and on the carrier) and as fully capable fighters, operational from carrier and from land bases. Thus, IN will get tremendous flexibility and a higher asset utilisation rate due to the carrier-compatible variant of the two-seater variant of the F/A-18. The F/A-18 Super Hornet has a very attractive lifecycle cost too. It not only has an affordable acquisition cost, but it costs less per flight hour to operate than any other tactical aircraft in production in the US forces inventory. This is possible because the fighter is designed for ease of maintainability and offers impressive durability with the life of the airframe up to 10,000 hrs. Boeing's sustainment programme – "By India, For India" – is built on the success of existing programmes that the company is executing for the Indian Air Force (IAF) and IN today. These programmes will enable us to develop select capabilities to sustain the Super Hornet out of India.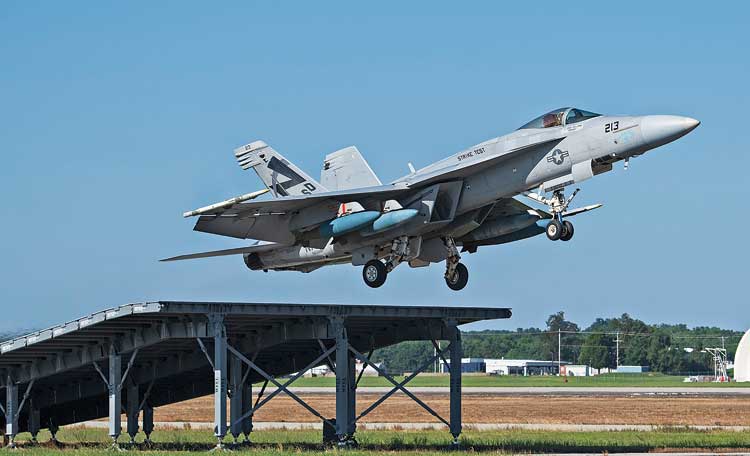 F/A-18 Super Hornet Block III
SP's: With a strong impetus for self-reliance in the defence sector, what is Boeing's "Atmanirbhar Bharat" Strategy for F/A-18 Super Hornet Block III?
Garcia: Boeing is invested in strengthening its Make in India initiatives, building on a successful track record of contributing to India's indigenous aerospace and defence ecosystem. As part of this effort, Boeing anticipates $3.6 billion in economic impact on the Indian aerospace and defence industry over the next 10 years, with the F/A-18 Super Hornet as India's next carrier-based fighter. The economic impact would be over and above Boeing's current offset obligations and plans in the country.
The new plan builds on Boeing's sourcing of $1 billion annually from 300+ suppliers on parts, assemblies and services from Indian suppliers. Boeing has added several new Micro, Small and Medium Enterprises (MSMEs) suppliers in support of our commitment to Atmanirbhar Bharat, and they account for over 25 per cent of our suppliers in India. The plan also envisages potential for additional manufacturing opportunities, including the F/A-18's Outer Wing and Nose Barrel component manufacturing and assembly. Additionally, Boeing is reviewing several hundred other machined assemblies that could be placed with Indian suppliers. Boeing envisions working closely with industry and the US and Indian governments to share technology and transfer work of the F/A-18 fighter jets in India, based on interest and business case. Boeing will also leverage investments made in the Boeing India Engineering & Technology Center (BIETC) and its talented pool of 4,500+ engineers and innovators in Bengaluru and Chennai to drive growth and innovation, and advance work in materials, manufacturing technologies and methods, and the "Digital World." With the F/A-18, Boeing will continue to explore opportunities to bring FSDA-related advanced technologies to the Indian defence industry.
The diversity and strength of the Hornet Industry Team, comprising of General Electric, Northrop Grumman and Raytheon, has the potential to deliver significant benefits to the Indian industry. These industry leaders have proven their commitment to India by collaborating with Indian entities and delivering on Atmanirbhar Bharat objectives. The F/A-18 will enhance collaboration with the Indian industry by facilitating knowledge transfer and promoting autonomy in operating and maintaining India's fleet of F/A-18 aircraft. Further, this knowledge transfer may also provide opportunities for India to support F/A- 18 fleets around the world through manufacturing and sustainment.
SP's: How are you contributing to the capability or skill building to support the growth of the indigenous aerospace and defence sector?
Garcia: Our growing platform base with commercial and defence customers in India and our expanding supplier base make it imperative for Boeing to invest in, develop and nurture talent. Boeing's skill development activities in India touch every stakeholder in the aviation and aerospace ecosystem. Through our skilling and up-skilling initiatives, Boeing is developing Indian MSMEs, and training hundreds of pilots, aircraft maintenance engineers, technicians, and frontline factory workers across India with partners like Air India, Tata, and MSMEs – Rossell Techsys, SASMOS, Jaivel and also other industrial partners like Indo MIM, Lakshmi Machine Works, Airworks and Wipro. These programs have skilled close to 4,000 frontline aerospace manufacturing workers and aircraft maintenance engineers. Boeing's investment in supplier development, training, tooling and quality management has enabled Indian suppliers to engage in high-value, high-tech manufacturing of complex aerospace components and subsystems for India and for the world.
SP's: Can you talk about your engineering centre in India and how is it helping in capacity building?
Garcia: The Boeing India Engineering & Technology Center (BIETC) in India is leveraging a talented pool of 4,500+ engineers and innovators across Bengaluru and Chennai to drive growth and innovation in aerospace. BIETC centre was formally established in 2016 and currently houses Boeing's engineering, test, research and technology, information technology and digital analytics teams. These technologists undertake high-quality, advanced aerospace work and offer engineering expertise to Boeing's defence, space, and commercial businesses, spanning engineering design of structures and systems, manufacturing support, developing systems to test our aircraft, and providing digital solutions to our airline customers. Cutting-edge R&D in traditional and emerging areas is performed at the centre, including next-generation airplane health management, environmentfriendly coatings, advanced networks and secure-communications where teams leverage new-age technologies such as Artificial Intelligence, Machine Learning, Internet-of-Things, Cloud, Model-Based Engineering, and Additive Manufacturing to enhance quality, safety, and productivity. Boeing is investing $200million in a new 43-acre state-of-the-art wholly-owned engineering and technology campus in Bengaluru. This will be Boeing's largest facility of its kind outside the US.