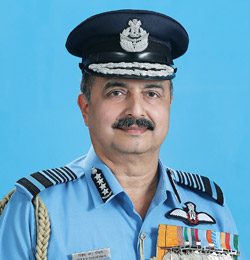 Air Chief Marshal V.R. Chaudhari,
Chief of the Air Staff
SP's ShowNews (SP's): Electronic Warfare (EW)
(a): What capabilities IAF should be possessing in view of the perceived threat scenarios?
Chief of the Air Staff (CAS): EW systems endow an enhanced layer of protection to weapon platforms, while also denuding the adversary aircraft of the same. Consequently, there is a need to equip all aircraft with EW self-protection systems like Radar Warning Receivers, Airborne Self Protection Jammers (ASPJs), Missile approach and warning systems and Laser Warning Systems. Whilst some transport and helicopters do possess some capability, there are others which need to be provided with additional protection. Such self-protection measures also need to be complimented with an offensive EW capability. This could be in the form of a transport aircraft jamming from stand-off distances or light weight jammers on Remotely piloted aircraft (RPA). Other avenues that we are looking at include high power Directed Energy Weapons and multipurpose ground based jammers.
(b): And how do you perceive the current state of affairs?
CAS: The IAF's has equipment of diverse origins, thus having varying philosophies of employment. This has given us an interesting insight into the employment of Electromagnetic Counter Measure techniques by different countries. By now we are also very familiar with the EW methodologies and systems operated by our adversaries. We have thus been able to refine our techniques and develop cogent responses. Work is in progress to equip our platforms with the latest EW systems, while existing deficiencies are being addressed in tandem. But this is a cat & mouse game, wherein continuous refinements are necessitated and that is what we endeavour to do.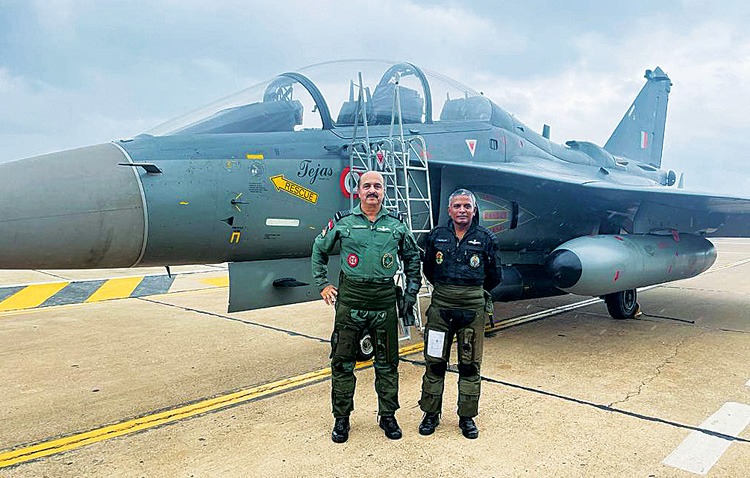 Light Combat Aircraft (LCA ) Tejas
SP's: Please enlighten us in terms of the IT-based protection capabilities if you are duly satisfied with the current level of systems in place.
CAS: As the IAF's operations become more net centric and our offices more paperless, there is a need for us to enhance the protection of our IT assets. We have therefore undertaken a slew of measures in this regard. For instance, multilayered security solutions and security management systems are now in place to defend our Net Centric Warfare infrastructure. A dedicated Security Operation Centre (SOC) has also been setup with a dedicated Security Information and Event Management System where real time threats are monitored. The Computer Emergency Response Team of the IAF in turn, responds to these threats. A separate Internet Security Operation Centre (iSOC) has also been setup for ensuring the security of our internet machines. A dedicated Air Force Cyber Group oversees these functions, while air warriors are trained in our Information Warfare School which has been set up to enhance cyber education and cyber security awareness among our personnel.
SP's: Countering Cyberattacks. Would you like to share what sort of eventualities/ threat scenarios need to be kept in mind while planning and executing the necessary firewalls enabling fool-proof solutions?
CAS: Key to our Cyber security is redundancy and defensive depth that adopts a layered approach to protect our data and information. Our endeavour is that in case of failure of one mechanism, another should step in immediately to foil an attack. This multi-layered approach enhances the security of our systems as a whole and is able to thwart different attack vectors. However, we have to be very nimble, adaptive and flexible by continually upgrading our infrastructure and procedures. We have to thus employ a combination of security products such as next generation firewalls, network segmentation, malware scanners, endpoint security, Patch management etc.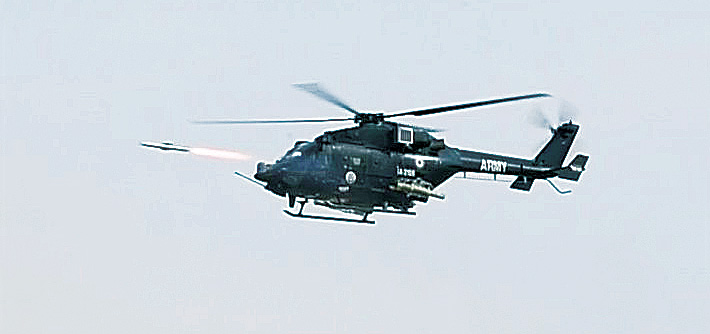 Anti-Tank Guided Missile Systems 'Helina'
SP's: Self-reliant Aerospace and Defence industry
(a): How do you perceive the R&D efforts being made in the country as this remains the foundation of achieving self-reliance in the aerospace and defence industry.
CAS: IAF has always supported the national vision of 'Atmanirbhar Bharat' and IAF was at the forefront of indigenisation efforts. In the last few years, IAF has inducted various aircraft, radars and airborne platforms developed within the country. The induction of LCA (Tejas), Aslesha Radars, Astra Air-Air Missile, Akash Surface to Air Missile, Advanced Light Helicopter (ALH), Integrated Air Command & Control System (IACCS) and Light Combat Helicopter (LCH) are a testimony of IAF's commitment to the national vision of Atmanirbhar Bharat.
Since 2016, the Government has ensured that the most preferred option for capital acquisition is to buy Indigenously Designed Developed and Manufactured (IDDM) category equipment, followed by the Buy (Indian) category. Also, to enhance the participation of Indian private industries in the field of defence manufacturing and production, the Government has introduced various initiatives under the Make in India scheme. We have subscribed to each of these schemes and have fielded several cases through Make I, II & III schemes. Furthermore, the IAF is also providing necessary support to the Startups engaged in iDEX by providing test facilities and guidance during the design and development stage of the projects. Additionally, we are also pursuing 20 projects under Technology Development Fund (TDF) scheme. As Indian industry gets more and more involved in these IAF projects, it is but natural that their own competencies will also grow and trickle down to tertiary levels over a period of time.
(b): Although some key programmes are being developed and progressing further as Made in India such as LCA, LCH, how do you find the pace of delivery schedules? How do you find their combat worthiness?
CAS: There have been some issues with the delivery schedules during the last few years. However, the DPSUs have matured in terms of size, scale and technology, making them more capable. Accordingly, we are hopeful that programme delays will be resolved in the near future.
Of the two indigenous products that you mentioned, I would like to stress that the LCA is superior to contemporary aircraft of similar class available with our adversaries. To add to its capability, the long range Beyond Visual Range (BVR) indigenous ASTRA missile is being integrated, as are other long range standoff weapons. Likewise, the LCH has already been integrated with 70mm rockets and Air to Air Missile, thus making it a potent platform. Trials on the indigenously developed Dhruvastra for the Advanced Light Helicopter (ALH) Mk IV have also been completed with successful firing having been conducted in May 22. The procurement case is currently being progressed with DRDL.