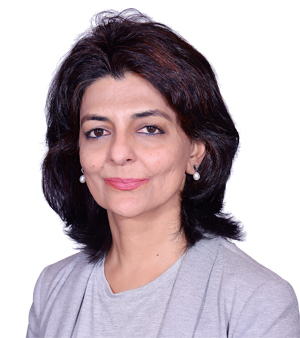 SP's ShowNews (SP's): How is the progress on GTF technology?
Ashmita Sethi (Sethi): The Pratt & Whitney GTF (geared turbofan) engine leads a new era of commercial jet engines. It is designed with superior architecture and has an unmatched runway for growth.
In fact, India was an early adopter of this revolutionary technology and now more than 180 A320neos for IndiGo and GoAir are powered by the GTF. As of today, the engine family has flown more than 2 million engine flight hours in India and is now delivering an industry leading dispatch reliability of 99.98 per cent.
Across the world, the GTF has delivered on its promised ability to reduce fuel burn and carbon dioxide emissions by up to 20 per cent, reduce nitrogen oxide emissions by 50 per cent compared to the regulatory standard, and to slash noise footprint by 75 per cent. We will continue to advance the engine throughout its lifecycle and deliver efficiency gains that will let our customers fly even farther, with less fuel, well into the future.
SP's: Can you indicate on the commitments coming from various airlines for this specific technology?
Sethi: The GTF powers more than 900 aircraft for nearly 50 airlines and three aircraft families; namely the Airbus A320neo, Airbus A220 and Embraer E-Jets E2. Since its debut five years ago, these engines have saved more than 400 million gallons of fuel.
GTF ENGINES
With the upgrades complete, these engines are now delivering industryleading reliability of 99.98 per cent for the A320neo family. Combine this with our best-in-class fuel efficiency and low carbon emissions, it's easy to see why GTFpowered fleets have seen high utilisation as the industry begins to recover after the pandemic.
The GTF has proven itself to be the engine architecture of choice. We are confident it will drive the next generation of efficient, sustainable air travel – allowing airlines to open new routes and fly more people, farther, with less fuel. That's why with over 10,000 orders and commitments, market demand for the PW1100G-JM engine remains strong.
SP's: There have been some hitches on this front. What all efforts are being made to offer an absolutely flawless GTF technology to various operators around the world?
Sethi: The geared turbofan is a new architecture engine in its first phase of its deployment cycle. Therefore, it worked up to the high levels of durability and reliability that it now delivers. We incorporated more durable LPTs into the engine fleet and redesigned a seal in the high-pressure compressor. These upgrades have been put into all new production engines and during planned maintenance visits of in-service engines.
In India, we worked closely with airlines to upgrade their engines to the latest configuration and minimised impact to their operations. We also adopted an inventive and agile way of retrofitting the fleet worldwide, investing both on the production side and the maintenance, repair and overhaul (MRO) side. Even during the extended lockdown in 2020, we continued to work closely with airlines to ensure that they were ready for a well-supported return to demand. As we have done for every engine throughout our history, Pratt & Whitney will continually work to improve the reliability and durability of the GTF over its entire lifecycle.
SP's: Where do you find your engine program's standing versus the competition in the world?
Sethi: We are the only engine company with geared turbofan technology in service and building on that experience that will put us well ahead of other engine makers. Since its entry into service in 2016, GTF-powered aircraft have accumulated more than 6 million engine flight hours. But what keeps us competitive and significantly ahead is also the additional investments we're making – across production, MRO and data analytics.
In the first half of 2020, the Pratt & Whitney GTF MRO network expanded to nine facilities, including Delta TechOps in the United States and EME Aero in Poland. Air India Engineering Services Limited (AIESL) was announced as a provider of maintenance services in support of GTF operators in India and the surrounding region. We are looking at this number increasing to 11 facilities in 2021.
We also have a growing suite of data analytics and real-time intelligence offerings that predict and prevent engine disruptions before they occur. Real-time intelligence and analytics allow us to compare individual engines and aircraft to the global fleet, identify trends and issues right away, and service engines more quickly to maintain the highest levels of aircraft availability. The GTF has a long runway for future growth and Pratt & Whitney is ready to deliver what the aviation industry needs next.
SP's: Can you elaborate more on your MRO services worldwide?
Sethi: Pratt & Whitney has a comprehensive engine repair and overhaul services and support, that is backed by a global state-of-the-art service network of engine OEM-owned and designated facilities. With our continued investment in technology, our facilities and our industry-leading workforce, we are well prepared to meet the need of MRO services worldwide.
Over the last five years, we have significantly grown our global MRO network. An example of this is our global Geared Turbo Fan (GTF) MRO capacity, which has increased 6x since 2017. In the first half of 2020, network expanded to nine facilities, including Delta TechOps in the United States and EME Aero in Poland. In India, Air India Engineering Services Limited (AIESL) was announced as a provider of maintenance services in support of GTF operators in the country and surrounding regions. It is part of the Pratt & Whitney GTF MRO network worldwide and provides maintenance services in support of GTF operators. Previously, such services were conducted only by international MRO hubs.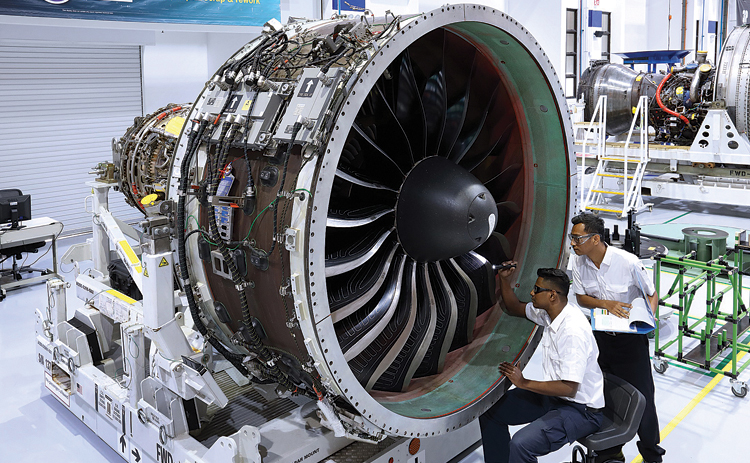 PRATT & WHITNEY EAGLE SERVICE ASIA FACILITY IN SINGAPORE
Additionally, Taj Air's Mumbai facility maintains Pratt & Whitney's PW308C engines. We also offer a growing suite of sustainment solutions for engines, for large and small aircraft, that support the Indian Armed Forces' mission readiness.
SP's: Given India is talking big for MRO – how can Pratt & Whitney play a major role?
Sethi: With the emphasis on self-sufficiency, it is positive to see the Government's plan to make India a hub for MRO of aircraft. This will not only strengthen our MRO capacity and capabilities in India, but also and open up future avenues for growth, aligned to the Government's "Atmanirbhar Bharat" vision.
For over 20 years, AIESL has been performing overhaul services on Pratt & Whitney's legacy engines such as the JT8D, JT9D, & PW4000. So, our MRO presence in India and our AIESL partnership goes back a long way. So, in 2020, we announced AIESL as a provider of maintenance services in support of GTF operators in India.
The GTF MRO with AIESL not only brings our engine support closer to our customers in the region, it also supports the government's vision of developing India as a major regional MRO hub. We also get to leverage India's skills and add to our advanced and competitive global MRO capabilities.
Just as we continue to increase up our presence in-country when it comes to supply chain, sustainment and research and engineering – we will continue to be a significant driver of India's MRO success story.
SP's: Would you like to elaborate on the key initiatives towards cleaner skies?
Sethi: Throughout our 95 year history, we have defined, and redefined, aviation. Now, we're working towards making environmentally sustainable aviation a reality. We want to enable our customers, and help them deliver cleaner, greener, and more sustainable air travel. In fact, the GTF has already set a new standard for fuel efficiency, as well as reduced emissions and noise footprint.
We continue to closely study novel solutions like hybrid-electric and hydrogen-powered propulsion in aviation and support wider adoption of Sustainable Aviation Fuels (SAFs). Globally, SAFs will be an important "Drop-In" solution that let us reduce carbon footprint while using existing gas turbine technology. The industry remains committed to sustainable growth, and we are committed to delivering for the industry and our customers.
SP's: R&D plays a very major role for futuristic and evolving technologies. What kind of investments do you make on this front?
Sethi: Innovation remains a key focus for P&W and we continue to channel our vast Research & Development (R&D) resources on advancing next-generation engine technologies. Be it designing engines of the next decade, researching advanced materials and aerodynamics, exploring manufacturing breakthroughs, or using big data and artificial intelligence – there is a lot of work happening globally. In fact, there's some exciting R&D work on advanced gas turbine technologies and materials, combustion, and mechanical design happening right here in India at our R&D Center of Excellence (COE) at the Indian Institute of Science (IISc), Bengaluru. We're also engaging the vibrant Indian start-up ecosystem through the RTX Innovation Challenge and exploring disruptive innovations for aerospace.