From in-principal approval to in-flight Wi-Fi to 'official commitment' on charter jet issues of the general aviation sector, the Joint Secretary gave a hopeful promise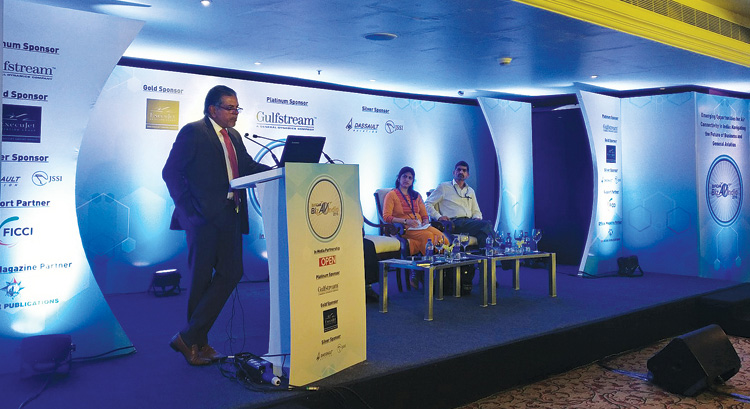 ROHIT KAPUR, PRESIDENT, BAOA, DELIVERING THE WELCOME ADDRESS AND SETTING THE CONTEXT FOR THE BIZAVINDIA 2018 CONFERENCE;
The BAOA BizAvIndia 2018 conference held on Wednesday may just have been a sneak-preview of the good things to come for the business aviation sector this year. While panel discussions with veterans in the field such as BAOA President Rohit Kapur, Pulak Sen, Founder, MRO Association of India, Kapil Kaul, CEO, CAPA and many others discussed a few burning issues in the sector, Joint Secretary at Civil Aviation Ministry Usha Padhee stole the show with her refreshing pep talk.
IT'S RAINING APPROVALS
Terming her presence as an antidote to 'gender bias on the dais', she said, "Many things have to be put into place (in business aviation sector), which can be addressed in our round table conference this week with the operators that will be moderated by the Directorate General of Civil Aviation (DGCA). So, you can discuss all your grievances." She also said that a task force has been formed to take up issues related to general aviation, and efforts would be made to address both policy and regulatory related issues. Padhee admitted that the regulatory changes in the private aviation sector take time saying, "Of course they are slow (DGCA) but there are reasons behind it mainly the lack of confidence-building measures." Lack of infrastructure, perception issues about private jet operators, over-regulations and the safety as well feasibility of single engine crafts were also discussed. BAOA President Rohit Kapur also echoed the same thoughts at the event. He said, "Regulators all over the world are not really agile. So, what's really lacking it's domain expertise."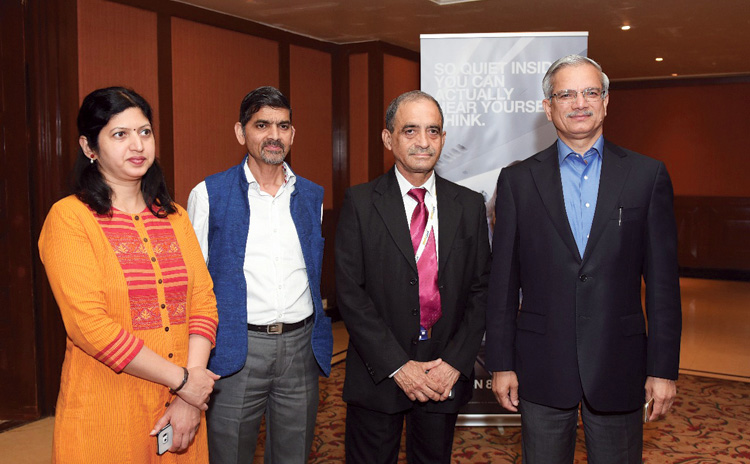 USHA PADHEE, JOINT SECRETARY, MOCA; G.K. CHAUKIYAL, EXECUTIVE DIRECTOR (RCS), AAI; GROUP CAPTAIN R.K. BALI (RETD), MANAGING DIRECTOR, BAOA AND RAJIV NAYAN CHOUBEY, SECRETARY, MOCA, AT THE INAUGURAL SESSION OF BIZAVINDIA 2018 CONFERENCE.
Padhee also gave an 'official commitment' to address charter issues in the next two to three months signaling interest of the tourism department in the subject too. As for the burning question of the day - the status of in-flight Wi-Fi, the minister said, "The aviation ministry being the party of interest has spoken in favour of this issue. So far, the in-principal approval is done. Now, it's just a matter of time."
"Of course they are slow (DGCA) but there are reasons behind it mainly the lack of confidence-building measures," Usha Padhee, Joint Secretary, MoCA
ISSUES OF THE MOMENT
The conference titled - Emerging Opportunities for Air Connectivity in India: Navigating the Future of Business and General Aviation, also set the stage for the unveiling of Deloitte BAOA report about the impact of GST. The BAOA President also stressed that it's imperative to understand the consequences of GST. In an earlier interview with SP's, Kapur had said, "We still need to iron out a lot of issues on GST, so we are also preparing a report to take to the GST council." He also discussed creating an infrastructure for general aviation to create ease of ownership as well as operation.
RCS TRICKLE-DOWN
Executive Director (RCS), Airport Authority of India (AAI), G.K. Chaukiyal was also a part of the panel and shed light on non-scheduled air operators (NSOP) in UDAN scheme. "NSOPs have been participating in both rounds of (UDAN) biddings. In the first round, 84 routes were awarded and in the second round, the NSOPs including helicopters have 30 per cent to 40 per cent of the routes," he said, adding that 56 airports, 31 helipads as well as 275 parking bays are expected to come up too which would benefit general aviation sector too. He also pointed out that Ministry of Tourism and Ministry of Defence have come forward to share their assets, which will greatly help in boosting infrastructure for admission growth. He also pointed out that "60 Indian Air Force airports have been notified in UDAN II."
The four-day long Wings India 2018, which is being organised by the Union Ministry, AAI and the Federation of Indian Chambers of Commerce and Industry, kickstarted on Thursday at the Begumpet Airport in Hyderabad. The theme of the event is 'India - Global Aviation Hub' with a major focus on regional connectivity.