One of the leading low cost carriers of Middle East, Air Arabia, if allowed, would like to go to new destinations in India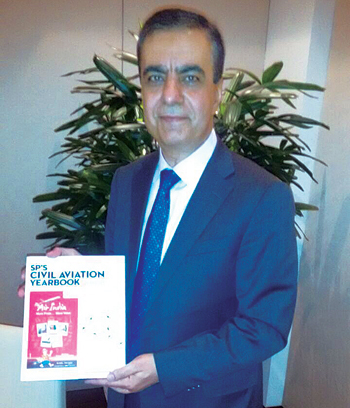 Calling India one of its key markets, Air Arabia, Sharjah based low-cost carrier (LCC), expressed confidence in the growing Indian aviation market. Speaking to reporters Adel Abdullah Al.Ali, Group CEO, Air Arabia, on March 5, said, "We serve around 21 flights a week into Delhi and Jaipur from Sharjah. We see a positive growth in the market here. The economy is good. The relation between India and UAE seems to be growing from strength to strength. Over all its been an excellent progress. We remain very confident for this particular market."
"When started in 2005, our objective was to make sure that we serve as many as airport possible to make the life of the people much easier, to get them to get home quicker and faster. I think we have managed to achieve that and we hope that we will continue to progress on that," he said.
Talking about expansion of Air Arabia in India, Ali said that if allowed, Air Arabia will be ready to fly to any airport in India. He expressed hope that the ever improving bilateral relation between UAE and India is going to benefit the two economies, especially the aviation sector.
The leading LCC of Middle East and North Africa, Air Arabia started its India operation in 2005 and now operates over 112 weekly flights from its hub in Sarjah to 13 cities in India. Currently, it flies to Jaipur, Kochi, Nagpur, Coimbatore, Thiruvananthapuram, Goa, Kozhikode, Hyderabad, New Delhi, Mumbai, Bangalore, Ahmedabad and Chennai.
Expressing his confidence in Indian market, Ali said, "It's been an excellent progress in last few years. We remain very confident that this particular market will grow."
"India is a very competitive market. It has moved from the era of sort of being very controlled market with prices being very high to a very competitive market. Indian low cost carriers are good and competitive."
On the Air Arabia's market share in India, Ali said, "Our market share in India continues to be very small. We still do not exceed double digit."
Talking on the fleet expansion, he informed that Air Arabia is expecting to receive three more aircraft this year. In 2019, the airline is receiving six Airbus A321neo aircraft which will open new markets, Ali said. These aircraft will be used on the high demand routes like East Europe, East Africa and China. At later stage the airline also intent to fly into South East Asia.
Air Arabia fleet consists of 50 new Airbus A320 aircraft offering Air Arabia passengers the best economy configuration in the market with a 32" seat pitch.
Responding to query on expansion of fleet he said, "We are hoping that probably by end of this year, we will have to put orders for more aircraft and we are talking to both Boeing and Airbus."
Air Arabia is looking at narrow body aircraft like Boeing's 737 max, A320/321s and Bombardier's C series. Air Arabia operates from five different hubs conveniently located in UAE (two), Egypt, Morocco and Jordan.
Discussing the airline's performance in 2017, Ali said that Air Arabia made 30 per cent year on year profit of $180 million. Every year, since its commencement of operation in 2003, airline has recorded profit.
More than 8.5 million passengers flew with Air Arabia in 2017 and the average seat load factor - or passengers carried as a percentage of available seats - in 2017 stood at an impressive 79 per cent. In 2017, Air Arabia added 21 new routes to its global five operating hubs in the UAE, Morocco, Egypt and Jordan. The carrier took delivery of four new aircraft.