PSU moves to protect turf, also presents fait accompli on new programme for 114 fighters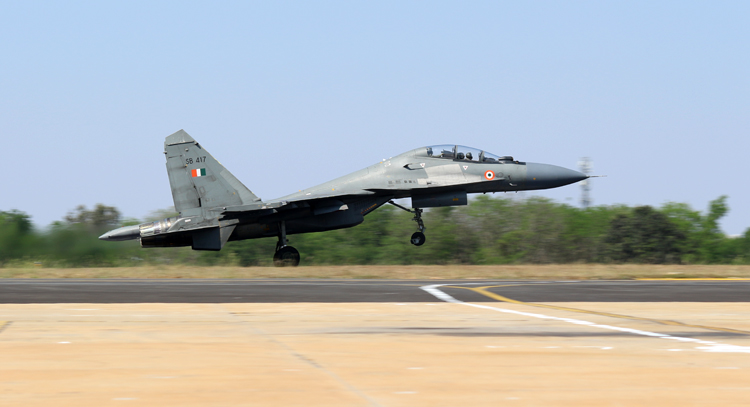 Sukhoi-30 MKI
Hindustan Aeronautics Limited (HAL) expects an additional order of one squadron of about 20 frontline Sukhoi-30 MKI fighters to keep its fighter production lines going till it starts manufacturing 83 Light Combat Aircraft Tejas Mark 1A fighters by 2023.
HAL Chairman and Managing Director R Madhavan made these announcements at Aero India to attempt raising the outlook for the beleaguered aircraft manufacturing monopoly, and dispelling the impression that it's facing an existential dilemma after the production run of its cashcow, the Sukhoi-30MKI comes to an end in 2020-21.
Madhavan and his top top brass also sought to play down the financial distress at HAL, claiming that there was only a problem of "cash flows" which will be sorted out soon. They hit the headlines in January for going to press with a distress scenario, and the disclosure that non-payment of dues by the IAF had forced HAL to borrow working capital from the market.
"We hope to get an order for another squadron of Sukhoi-30MKI. We have made a proposal to the Government," the HAL chief announced. The IAF Su-30 MKI fleet is envisaged to be built up to a maximum strength of 272. The IAF has emphasised on several occasions that it does not require additional numbers of the heavy fighter being licence produced by HAL. Only 17 of the 272 ordered remain to be delivered, and the production run at HAL is drying up.
Madhavan and his director (Engineering R&D) Arup Chatterjee also laid out a blueprint for the future of fighter production, which has been HAL's mainstay for decades. The HAL top management expressed the belief that it is best placed to build India's next multi-role fighter, the process for acquiring 114 of which has commenced. Another 57 are required by the Navy.
"The indigenous content can be provided only by HAL," Madhavan emphasised, almost presenting a fait accompli to the Government while referring to the new Strategic Partner process for selecting the production entity for fighters in India in which emerging private sector players will also be considered. It is a move which can end HAL's monopoly over manufacture of aircraft.
The Public Sector behemoth has already entered into a tripartite arrangement with Boeing and Mahindra to offer the F-A/18 Super Hornet.
"We expect the order for 83 Mark 1A LCA Tejas fighters in one or two months," the HAL CMD further announced.The problem is that the Mark 1A variant has not yet been developed. But HAL believes that this is not a big hurdle, now that Mark 1 has been certified for combat capability with a Final Operational Clearance (FOC). The Mark 1A variant requires retrofitment of an AESA radar, and expansion of the avionics envelope.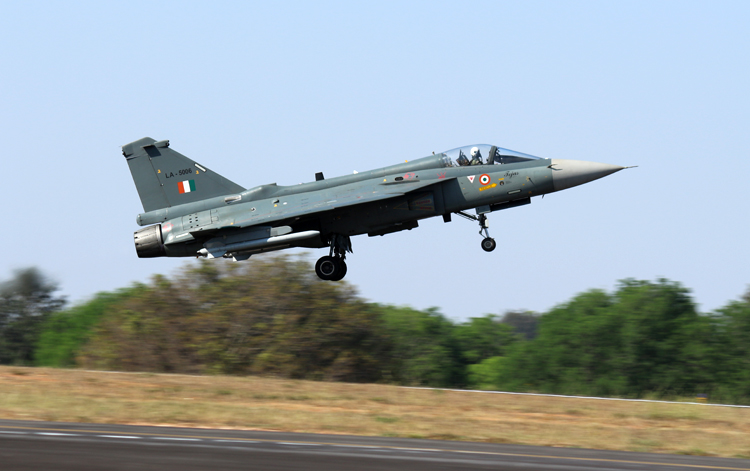 Light Combat Aircraft Tejas Mark 1A
Elaborating on the Tejas production plan, Chatterjee said the Mark1A variant will fly by 2022, and serial production will commence in 2023. While the Government is already funding the expansion of the Tejas production capacity from 8 a year to 16, Chatterjee said production could be ramped up to 24 due to outsourcing of the production of fighter components to a supply chain. He said this to address concerns over the pressing requirements of the IAF for new fighters due to its sharply depleting fleet.
Madhavan also dispelled doomsayers with the assertion that HAL still has an order book worth 65,000 crore. 'With the 83 Tejas fighters and helicopter orders, we should be comfortable." He said.
HAL expects a Limited Series Production order for 15 Light Combat Helicopters (LCH) soon. "The LCH orders will go up to 180," Madhavan claimed. He also expects additional orders for the Advanced Light Helicopter Dhruv. Then, there are plans to upgrade the 45 MiG-29K deck-borne fighters of the Indian Navy. HAL's is aiming for certification of its Basic Trainer Aircraft HTT-40 this year. There's a requirement for 70 trainers for the IAF.
Madhavan refused to get drawn into the Rafale controversy, saying HAL is not interested in offsets contracts. "We do not want to get involved in a fight between others," he said. But he boss did respond to criticism that the Rafale deal fell through after HAL insisted on 2.7 times more work hours for manufacturing the fighter than the French OEM. "You can't compare the work hours for my first aircraft with the 100th that someone else may be producing. The numbers decline as procedures get refine with more numbers being produced," he reasoned, while claiming that HAL was using lesser working hours for making the Sukhoi-30 MKI than the Russian OEM. Some of the criticism of HAL did hurt, he regretted.
Another big announcement was for the building of Polar Satellite Launch Vehicles for the Indian Space Research Organisation in partnership with L&T. ISRO has a requirement for a minimum of 12 PSLV launches a year.