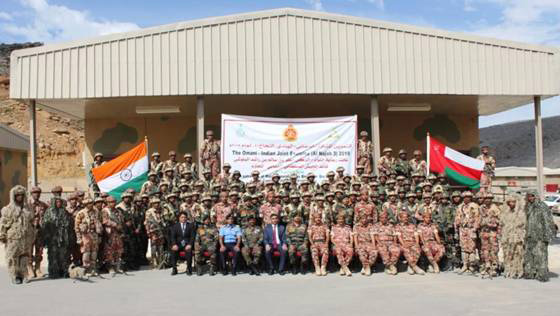 Exercise Al Nagah - III 2019 Validation and Closing Ceremony
The third edition of joint military training exercise between Indian Army and Royal Oman Army, Exercise AL NAGAH 2019 concluded at Jabel AI Akhdar training camp, Oman on March 25, 2019. Closing ceremony witnessed final validation by observer delegation group of both the nations. Indian side was represented by HE Mr Munu Mahawar, Indian Ambassador to Oman and Major General A K Samantara. Royal Oman Army was represented by Major General Matar Bin Salim Bin Rashid Al Balushi and many senior officials. Contingent commanders of both the contingent briefed the delegation on the progress of the exercise. The two-week long exercise had commenced on 12 March 2019. 60 Soldiers of Indian Army took part in the exercise alongwith similar strength of pers from Royal Army of Oman.
Both sides jointly planned and executed a series of well-developed tactical operations based on scenarios that are likely to be encountered in semi-urban and mountainous terrain. Commanders at various levels from both sides were exercised to work in close coordination to receive and collate information, jointly plan operations and issue suitable order to respective components. Subject experts from both the contingents also held in-depth discussions on various facets of counter insurgency and counter terrorist operations.
Exercise AL NAGAH will go a long way in further cementing relationship between the nations and will act as a catalyst in bringing synergy and cooperation while undertaking such operations under the United Nations mandate.