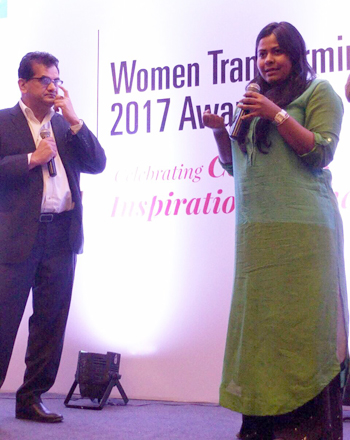 Kanika Tekriwal, CEO and Co-founder of JetSetGo Aviation Services Private Limited received the "Women Transforming India-Breaking the Glass Ceiling" award that was launched by NITI Aayog; Government of India's premier policy think tank formed in January 2015. The group set up this award to recognize powerful women of India's workforce, who are influencing positive change in their communities and furthering the Government of India's mission of inclusive economic growth.
Thrilled to win this honorable award, Ms. KanikaTekriwal said, "Traditionally dominated by men, the aviation sector is not an easy place to break into. Glass ceilings abound and pre-conceived notions of women as air hostesses continue to thrive. For me, however, the challenges of overcoming patriarchy are but minor hurdles in the path of offering customers a hassle-free, one-of-its-kind experience. It gives me sense of pride to deliver our best and take aviation to an ace level. This only motivates us to work harder and put India on the aviation map.
"To address this imbalance and enable more women in aviation, JetSetGo has taken a step forward to ensure its workforce consists of atleast 50% women. This will not only change the industry in India but hopefully set global standards for international businesses to implement too." she added.
With a vision to be the air travel partner of choice that enables the most personalized travel with fastest mobility from any Point A to Point B, JetSetGo was started in 2014 by KanikaTekriwal and SudheerPerla and now controls the largest pan India fleet of private jets and helicopters. Recently, KanikaTekriwal also featured in the Forbes magazine list of '30under30' achievers of Asia, CNN 20 under 40 list of game changing Indian entrepreneurs along with BBC's 100 most inspirational women.