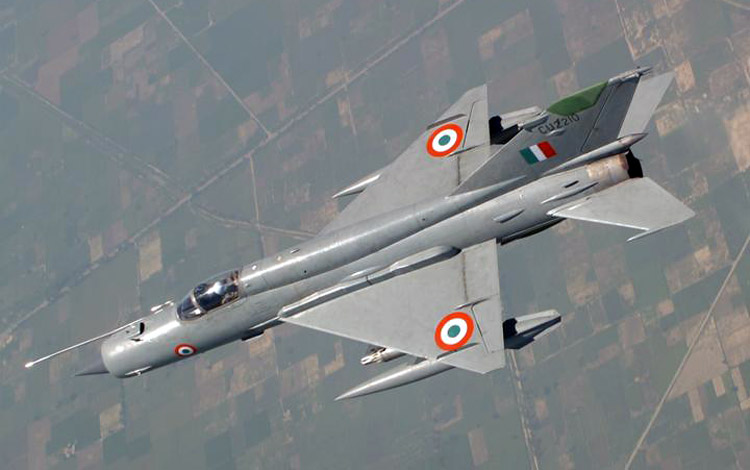 File photo of the MiG-21 Bison
An Indian Air Force (IAF) MiG-21 Bison fighter aircraft crashed after take-off from the Nal forward airbase in Rajasthan on March 8 after a suspected bird hit. The pilot ejected safely.
"Initial inputs suggest a bird hit," the Spokesperson of the Ministry of Defence Tweeted after the crash, eager to douse speculation on the cause of the crash amidst military tensions with Pakistan. The Indian armed forces are on razor edge alert after India's airstrike on a terrorist camp in Pakistan on February 26, followed by the aerial face-off above the Line of Control (LoC) leading to the shooting down of an F-16 fighter of Pakistan Air Force and a MiG-21 of the IAF on February 27.
An IAF press statement termed the ill-fated MiG-21 flight as a "routine sortie". The time of the crash was 1430 hours near Bikaner. The press statement also mentioned "bird hit after take-off" as the likely cause, while adding that "a court of inquiry has been ordered to investigate the cause of the accident".
It is unusual for the IAF to mention a likely cause of an accident before the court of inquiry submits its findings. But the apparent motive in this case is to pre-empt disinformation on the crash being linked to enemy action.
The IAF has had a dismal crash record this year. Since January 28, four fighter aircraft, two Hawk aerobatic aircraft and one Mi-17 helicopter have crashed, killing five pilots and four other personnel. In addition, a MiG-21 was shot down over the LoC in aerial combat with Pakistan. The fighters lost by the IAF in 2019 include 2 MiG-21 Bisons, 1 upgraded twin-seater Mirage-2000, 1 Jaguar and 1 MiG-27.