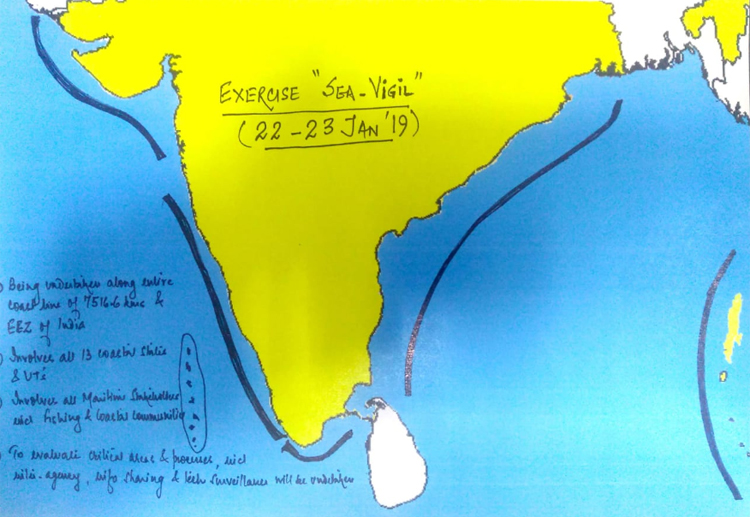 Ten years after "Mumbai 26/11", the Indian Navy commenced the largest coastal defence exercise off the Indian coast on January 22, 2019. Exercise SEA VIGIL, a first of its kind was conducted along the entire 7516.6 km coastline and Exclusive Economic Zone of India, involving all of 13 Coastal States and Union Territories along with all maritime stakeholders, including the fishing and coastal communities.
Exercise Sea Vigil was aimed to comprehensively and holistically validate the efficacy of the measures taken since 'Mumbai 26/11'. Seaward monitoring during the exercise entailed patrolling off coast, in Offshore Development Areas and off islands territories by the Indian Navy, Indian Coast Guard, supported by the State Marine Police. Closer coast, strategic assets, ports, Single Point Moorings (SPMs) was patrolled by designated agencies. Seaward monitoring also entailed inputs from technical means, including intelligence sources. Extensive shore-based monitoring enhanced vigil by the State Police along the coast; monitoring of fish landing centres by state fisheries departments; as also monitoring of port areas by respective port authorities.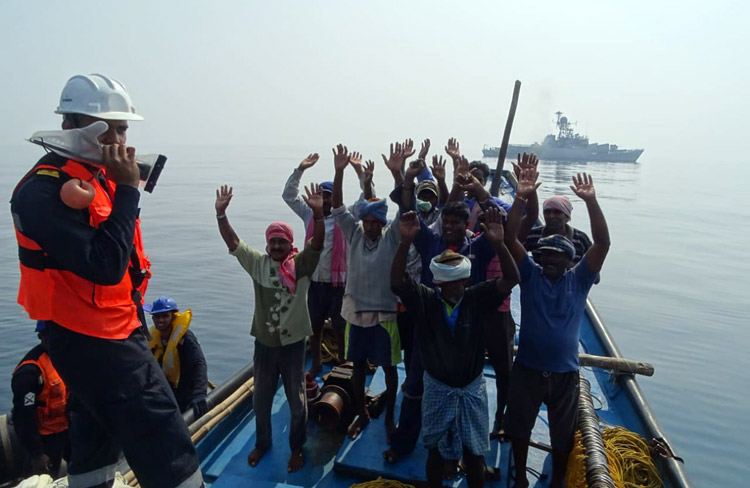 Sagar Prahari thwarting attempts of hostile infiltrators during Exercise Sea Vigil 2019
The first coastal defence Exercise Sea Vigil, conducted by the Indian Navy and Coast Guard, in close coordination with State Governments and Union Territories concluded on January 23, 2019. This was the largest such exercise the country had ever witnessed in recent times and saw participation by more than 100 ships, aircraft and patrol boats manned and operated by various security agencies.
The exercise had commenced in the morning of January 22, 2019 and comprised two distinct phases. In the first phase, all stakeholders assessed the robustness of their own organisations. During the second phase, simulated attacks were carried out on vital installations and assets by infiltrating through the sea, in Kerala and Lakshadweep. The security agencies were able to thwart attempts by the opposing force to infiltrate onto the coast using commandeered fishing boats. Response of agencies to other security contingencies such as hijacking of a ship and attack on offshore installations off Kochi Harbour was also assessed. All infiltration attempts will be analysed promptly to identify gaps in the multi-tier security layers at sea, close to the land and also in the hinterland in close coordination with concerned stakeholders.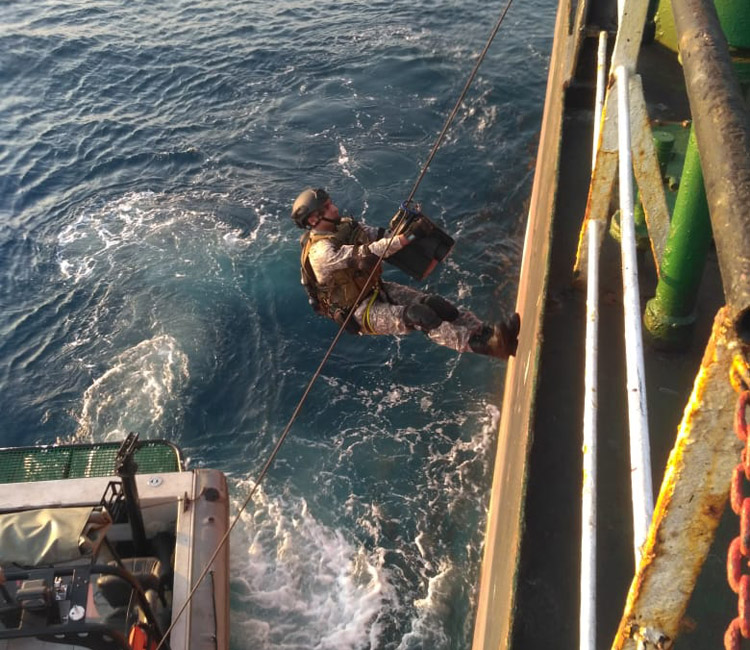 Marine Commando engaged in visit-board-search operation during Exercise Sea Vigil 2019
Exercise Sea Vigil that lasted for over two days, including the mobilisation phase, witnessed a high tempo of operations by all agencies and large-scale deployment of forces. All operational centres of the Indian Navy and Coast Guard and control rooms of Police and Kochi Port were fully activated and exchanged information with each other. During the exercise, multi-agency teams also evaluated the security set up implemented by agencies including at fishing harbours, fish landing centres, police control rooms and ports amongst others.
Exercise Sea Vigil conducted by Indian Navy and assisted by all stakeholders will facilitate in establishing shortfalls, working out new ways to optimise resources, recommend solutions to higher authorities and refine Standard Operating Procedures. With active support from all stakeholders, such exercises further strengthen the overall security architecture and enhance confidence to thwart any misadventure by anti-national elements.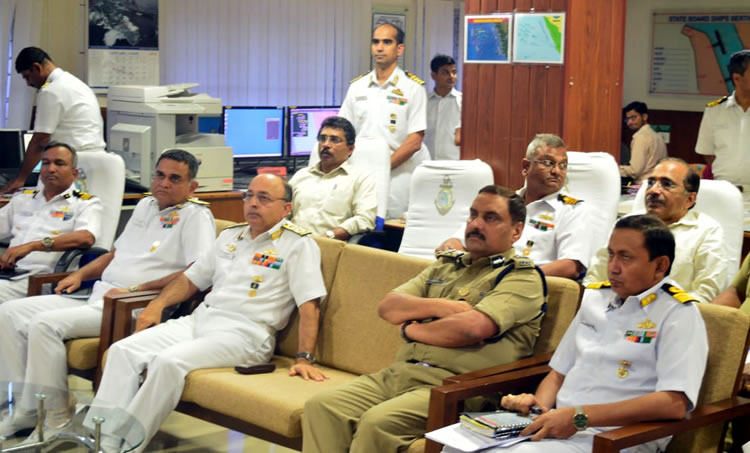 Vice Admiral Anil Kumar Chawla, Flag Officer Commanding-in-Chief, Southern Naval Command and Commander-in-Chief, Coastal Defence reviewing progress of Exercise Sea Vigil 2019
Vice Admiral Anil Kumar Chawla, Flag Officer Commanding-in-Chief, Southern Naval Command and Commander-in-Chief, Coastal Defence periodically reviewed the progress of Ex Sea Vigil in the presence of senior officers from Indian Navy, Coast Guard, Coastal Police and other agencies at the Joint Operations Centre, Kochi.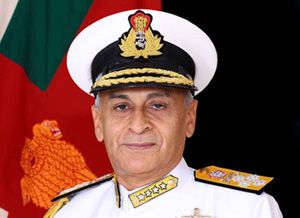 On the tenth anniversary of Mumbai 26/11 tragedy, in an exclusive interview with the SP Guide Publications, the Chairman Chiefs of Staff Committee and the Chief of the Naval Staff, Admiral Sunil Lanba shared his forthright perspectives on the India's Coastal Security construct. Excerpts of the same are reproduced below for our Readers:
SP's: A decade after the worst ever tragedy caused by the sea borne Terror attack, Mumbai 26/11 a huge question looms large "How could this have happened, and can it happen again"?
CNS: We have come a long way since 2008. Several organisational and procedural initiatives have been taken towards strengthening mechanisms for maritime and coastal security. The focus of these efforts has been streamlining inter-agency policy and operational coordination; electronic surveillance and Maritime Domain Awareness (MDA) of coastal and extended maritime areas; capacity-building and capability augmentation of maritime security forces; and, strengthening security in sectors such as ports, shipping and fisheries. Through these dedicated efforts, we are better organised, better equipped, and better prepared to handle any emerging threat in the maritime domain.
Having said that, there are certain gaps and vulnerabilities which have been identified, and these are being addressed. While it is a fact that we have indeed made significant progress, timely actionable intelligence will remain a key to effective operational response.
I would also like to share with readers that as part of our continuing efforts towards validating our response mechanisms to seaborne threats, during the month of January 2019, we would be conducting a large-scale coastal defence exercise 'Exercise Sea Vigil' which will involve all stakeholders across mainland and island territories. We aim to test the robustness of our entire coastal security apparatus, down to the wire through this massive exercise and put the necessary correctives in place.