From being a license manufacturer, the company is coming up as an aircraft developer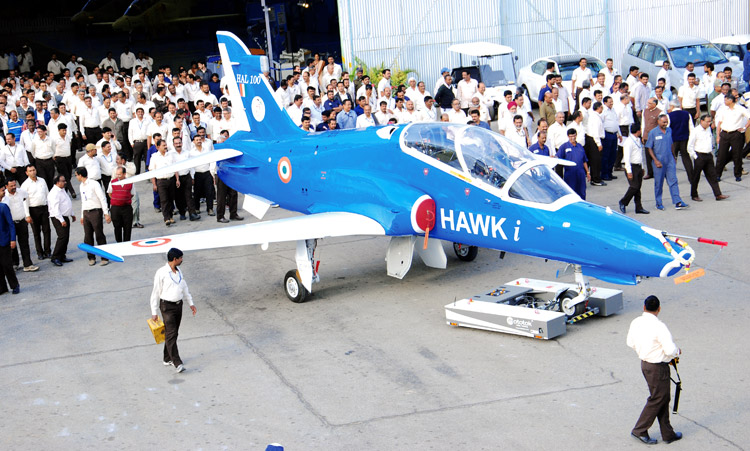 India's defence aviation major, the Hindustan Aeronautics Limited (HAL) is undergoing exciting transformation. From being a license manufacturer, the company is coming up as an aircraft developer. In last one decade, HAL has developed armed version of advanced light helicopter (ALH) better known as 'Rudra', Light Combat Helicopter (LCH), HTT40 basic trainers, Hawk-I and civil version of Dornier 228.
The current success of the company is well reflected in its financial health. In the financial year 2017-18, HAL recorded a turnover of over 18,000 crore (provisional and unaudited), this is 400 crore more than the preceding financial year.
Reacting to the financial results, T. Suvarna Raju, Chairman and Managing Director, said, "The Company strongly supports the Indian Armed Forces with its indigenous and licence manufactured products. The Company has also continued to emphasise on selfreliance towards development of indigenous products, diversification into civil segment, enhancement of capacity, support development of defence manufacturing eco-system by developing domestic vendors (including MSMEs) and enhance outsourcing. These efforts will provide steady growth of the Company and opportunities to capitalise on the future requirements arising for Indian Armed Forces."
In an eventful year, HAL produced 40 new aircraft including choppers and 105 new engines. It also carried out overhaul of 220 aircraft/helicopters and 550 engines and has received order of 41 Advanced Light Helicopters 'Dhruv' and eight Chetak helicopters from Indian Armed Forces in the year 2017-18.
Last December, IAF sent Request for Proposal to HAL for 83 LCA 'Tejas' Mark 1A and 15 limited series LCH. In the other major achievements, it received Initial Operational Clearance (IOC) certificate for its Light Combat Helicopter (LCH), acceptance of Mirage 2000 upgrade by Indian Air Force (IAF) after its Final Operational Clearance, first successful run of Hindustan Turbo Shaft Engine -1200 and successful test firing of BrahMos missile from Su-30 MKI etc.
HAL has converted Do-228-201 multi-purpose light transport aircraft, operational with Indian armed forces, into a 19 seater turbo prop commuter aircraft. The aircraft received its type certification by Directorate General of Civil Aviation (DGCA) in 2017. The civil version was showcased during the recently held Wings India 2018, at Hyderabad, India's civil aviation expo.
Since January, HAL has made some significant technical gains. On January 31, it carried out first flight of light combat helicopter (Technology Demonstrator- 2) with its own designed and developed automatic flight control system. The maiden flight lasted for 20 minutes. Few days later on February 7, another milestone was achieved, when Hawk- I, HAL upgraded BAE System's Hawk Mk132 trainer aircraft, made its first flight with indigenous Real Time Operating System. Similarly, taking the LCA Tejas towards FOC, on February 27, company carried out maiden hot refueling followed by a sortie at HAL airport, Bengaluru.
In a significant development which can give a flip to the private industry in the aviation sector, HAL is offering its ALH 'Dhruv' (civil version) "for manufacturing to potential Indian private companies through Transfer of Technology."