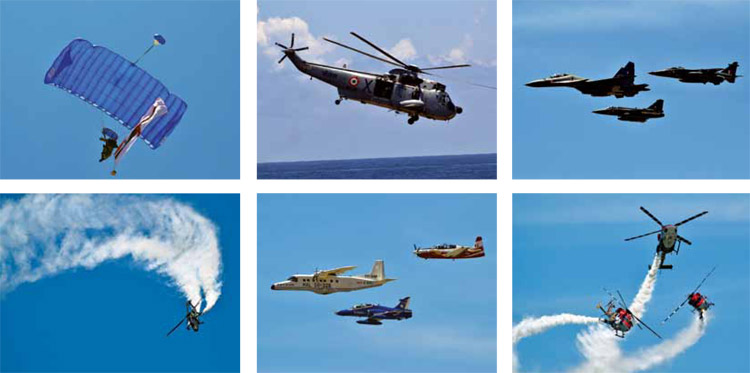 Prime Minister Narendra Modi, in presence of the three service chiefs, witnessed a demonstration of beach attack by the three services utilising Indian manufactured equipment.
The demonstration brought alive the action and thrills of war. In the blazing summer sun, the audiences were made to feel the heat and dust that can deter people from moving but does not have any effect on the men who are trained to fight war.
The demo started with eight Naval Marine Commandos (Marcos) doing a para-jump from the Hindustan Aeronautics Limited (HAL)-made Dornier transport aircraft which was followed by shore attack by four Indianmade naval vessels, simulating destruction of the anti-aircraft battery, before ingress by the Marcos. Soon after eight more marcos slithered down from Sea King and HAL's advanced light helicopter and took positions on the beach.
This was followed by simulation of asymmetric attack on the naval ships by fast interceptor craft which were repulsed by the ships using their fire power. This demonstrated how ships defend themselves against small craft which are swift and difficult to detect from a long range.
Thereafter, the air was filled by the roar of aircraft engines. In the flying demonstration HAL designed and developed light utility helicopter (LUH), ALH Dhruv, Armed ALH Rudra and light attack helicopters along with HTT-40 trainers, Hawk-I and Do-228 participated.
HAL manufactured fixed wing aircraft flew in a formation led by Su-30 MKI which was flanked by LCA Tejas and Jaguar.
Later, DRDO's Arjun Mk-II and wheeled armoured amphibious personal carrier (WhAP) demonstrated their prowess.
Not leaving behind the Indian private sector, the DRDO-designed and private sector manufactured 155mm/52 calibre Advanced Towed Artillery Gun and Ordnance Factory Board's developed 155mm/45 calibre artillery demonstrated their moves.