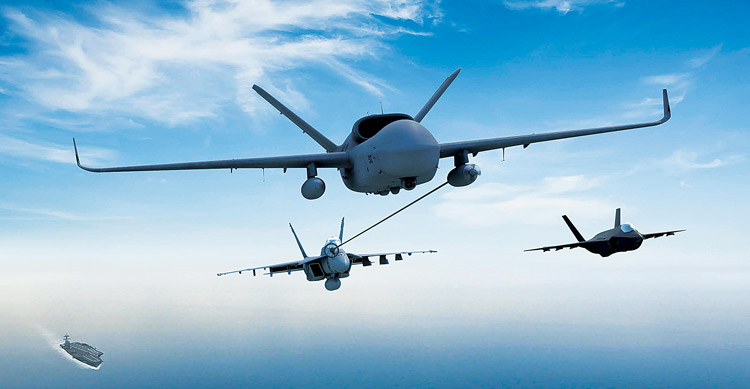 On February 13, General Atomics Aeronautical Systems, Inc. (GAASI) announced its industry partnership for the US Navy's Carrier Based Aerial Refuelling System (CBARS) or MQ-25 Stingray. When inducted, MQ-25 will be US Navy's first carrier based unmanned aircraft system (UAS). The other two contenders for the project are Boeing and Lockheed Martin.
GA-ASI is offering a purpose-built MQ-25A Stingray, optimised for the tanking mission, which wills double the range of the carrier based aircraft. "Our offering exceeds all of the Navy's requirements, including carrier suitability," GA-ASI said in the release. Currently, US Navy is using F/A-18 'Rhino' for fleet tanker roles.
"As the world's premier quick reaction unmanned aircraft system manufacturer, we are committed to delivering the most effective, affordable, sustainable, and adaptable carrier-based aerial refueling system at the lowest technical and schedule risk," said David. R. Alexander, President, GA-ASI. "This collaboration of the best in aerospace industry will provide the US Navy with a fleet ready unmanned tanker with exceptional growth, well within the Navy's preferred timeline."
Initially MQ-25 will act primarily as a fleet tanker, but it may be developed later for other roles. For the project, General Atomics is collaborating with Boeing Autonomous Systems on aviation, Pratt & Whitney for high-bypass PW815 commercial engine, UTC Aerospace Systems for landing gear, L3 Technologies for communications systems, BAE Systems for software. The navigation technologies will come from Rockwell Collins. MQ-25 is expected to enter service with US Navy in mid-2020s.