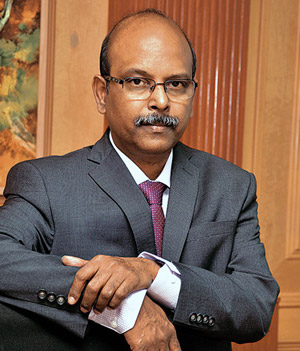 SP's ShowNews (SP's): Could you talk about how successful BEL has been in attaining technological leadership in defence electronics? Please share details about the major achievements recently?
M.V. Gowtama (Gowtama): BEL, with a vision of making India self-reliant, has been India's foremost defence electronics company since 1954. BEL is steadily increasing its portfolio in defence defence electronics. It has been the most trusted partner of DRDO and spends 8 per cent to 9 per cent of its turnover on R&D. It has strengthened the armed forces (Indian Navy, Indian Air Force as well as Indian Army) with many indigenous defence systems in the field of radars, communication systems, electronic warfare systems, weapon systems, night vision devices, etc.
Some of the systems already delivered include the various surveillance and weapon locating radars, Akash missile system, IFF radars, air defence control and reporting system (ADC&RS), combat management systems (CMS) and sonars for ships and submarines, ship-borne and land based EW Systems, communication equipment for Navy and Army, digital flight control computer (DFCC) and avionics for light combat aircraft (LCA), night vision devices, etc.
SP's: How does BEL contribute to the modernisation of armed forces? What are the latest products in defence and aerospace category?
Gowtama: Modernisation of armed forces happens through induction of state-of-the-art equipment and upgrading sensors and weapons on existing platforms. BEL is contributing in both these areas. Today BEL is working on many new products such as AESA based modern multi-mode radars, nextgeneration electronic warfare suites for fighter aircraft, integrated EW systems for various terrains/ships, tactical communication systems, battlefield management systems, passive night vision devices, multi-sensor stabilisation systems with sensors, and new gun programme with target acquisition and fire control capabilities. Also, BEL is providing upgrade solutions like for Schilka and L70 guns.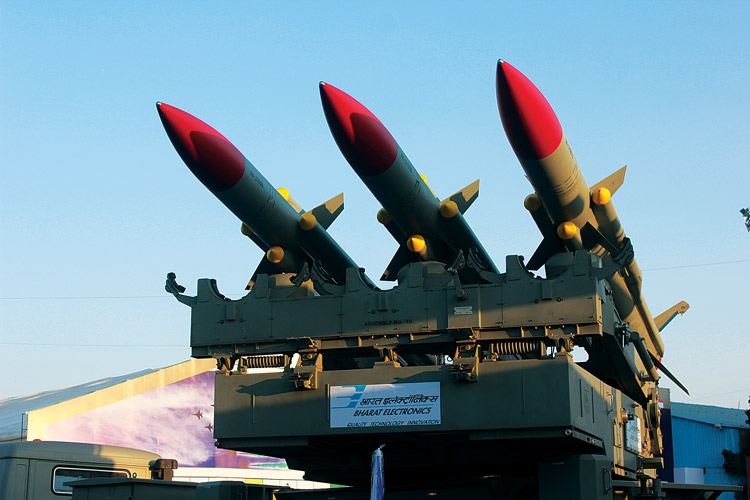 AKASH MISSILE SYSTEM
SP's: Please talk about the indigenisation efforts of BEL in line with the 'Make in India' programmes?
Gowtama: In line with the Government's 'Make in India' policy, BEL has taken several initiatives towards indigenisation to achieve self-reliance through inhouse R&D, import substitution, outsourcing from Indian private industries, public private partnerships, joint ventures, capacity expansion, infrastructure development/modernisation and collaborative R&D. Around 87 per cent of BEL's turnover is generated through indigenously developed products/systems. As part of our efforts to enhance indigenisation, BEL has created an exclusive web link on 'Make in India' in the BEL website (www.bel-india.com).
SP's: Could you shed some light about your vision and priorities for BEL to achieve its objectives?
Gowtama: Defence segment continues to be BEL's main business and provides about 85 per cent of revenues. BEL's vision is to be a world-class enterprise in professional electronics. In keeping with the modernisation plans of the Indian defence forces, BEL aims to grow at a rate of 12 per cent to 15 per cent in the coming years.
Segments like network-centric warfare, radars, weapon systems, electronic warfare and avionics, military communications and electro-optics are likely to largely drive the Company's growth in the future.
As a diversification strategy, BEL is continuously exploring opportunities in defence and allied non-defence areas for enhanced growth, leveraging its strengths and capabilities acquired in the defence electronics domain. Some of the new areas of focus in defence segment include electronic ammunitionfuzes, inertial navigation systems and in non-defence segment include homeland security and smart city solutions. BEL is also working with ISRO to address growing needs in satellites and space applications.
India is one of the most lucrative defence markets globally with mega acquisition programmes coupled with the Government's firm resolve for defence modernisation. At present, the Indian defence market is undergoing several fundamental changes with the Government setting a firm platform for the private sector to play a major role in the Indian defence industry. BEL is poised to face increased challenges due to competition from the private sector. BEL is working closely with platform manufacturers like HAL and OFB to become a preferred electronics systems supplier for their programmes.
BEL has been continuously carrying out changes in its organisational structure, business processes and systems to adapt to the changing business requirements. BEL is planning to invest substantially in R&D and also for expansion and modernisation of facilities especially in areas of radars, missile systems, advanced electro-optics, antennas manufacturing, RF and microwave components and homeland security solutions.
SP's: How do you look at Defexpo 2018 as a platform to identify new business opportunities? Could you talk about BEL's highlights at the expo?
Gowtama: Defexpo 2018 is a wonderful platform to interact with existing and potential customers, partners and suppliers. At Defexpo 2018, BEL will showcase its capabilities spanning every domain of its business - radar and fire control Ssystems, network-centric systems, communication systems, missile systems, electronic warfare and avionics, anti-submarine warfare systems, electro-optics and laser systems, gun upgrades, tank electronics, home land security systems, technology modules, simulators, shelters and civilian products. BEL will display its R&D capabilities by launching some of its new products/technologies during the Defexpo 2018. The theme for this year's display is 'Make in India' in keeping with the Government's impetus on this initiative.