The manufacturer holds high hope for India's global relationships enhancing with TLMAL's expansions and the extensive potential of the C-130J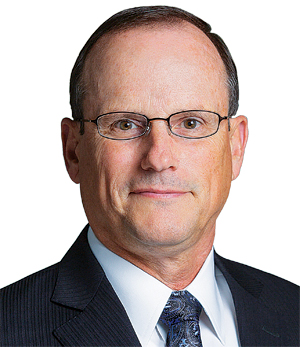 RICH JOHNSTON, DIRECTOR OF INTERNATIONAL BUSINESS DEVELOPMENT, LOCKHEED MARTIN AERONAUTICS
At the Aero India show, Lockheed Martin is showcasing its diverse portfolio of defence capabilities and solutions. The company's exhibit during the show includes a broad span of state-of-the-art capabilities, including the F-21 aircraft, MH-60R 'Romeo' multi mission helicopter, the S-76D helicopter, and the C-130J Super Hercules aircraft.
The C-130J airlifter, often referred to as India's Workhorse has been operating in the Indian Air force (IAF) for almost a decade. Supporting multitude of missions that the IAF carries are 12 C-130J that are presently part of the fleet. India is among the 17 countries that were sold the C-130J Super Hercules aircraft by the US. Last year, there were reports of the Pentagon having approved India's request to buy equipment, spare parts and logistical support for its fleet of C-130J Super Hercules cargo aircraft worth $90 million to strengthen the US-India strategic relationship.
It is important to note that India has a very strong connection to every C-130J fleet that's being purchased in the world because every C-130J is truly built in India which amplifies the unique relationship between every C-130J and the nation on the lines of 'Made in India, Flown Around the World'.
Tata Lockheed Martin Aerostructures Limited (TLMAL), a joint venture established in 2010 between Tata Advanced Systems Limited (TASL) and Lockheed Martin Aeroframe Corporation located in Hyderabad, India holds the distinction of being the single global source for the empennages. "TLMAL has the distinction of being the single global source of C-130J empennage assemblies included on all new Super Hercules aircraft produced in Marietta, Georgia, in the USA. And to date, TLMAL has manufactured 140+ C-130J empennages," said Kiran Dambala, COO, TLMAL.
C-130J HAS BEEN OPERATING IN THE IAF FOR ALMOST A DECADE
TLMAL, that holds high the banner of 'Make in India', primarily does empennages but is also slowly branching out into fighter wings and into composite manufacturing. "I am proud that in the first round, we indigenised 85 per cent of the detailed parts that go into the empennage, and now we have just kicked off the second phase of the indigenisation and digitisatioin phase and in two years we hope to be 97 per cent indigenised.
Almost one year back, TLMAL had delivered the 100th C-130J Super Hercules empennage from its manufacturing facility in Hyderabad. Empennage assemblies produced by TLMAL include the aircraft's horizontal and vertical stabilizers along with leading edges and tip assemblies. Having met every single delivery for their customers in 2020, TLMAL's focus areas for 2021 include the delivery of 30 ship sets of C-130J empennages, delivering the fighter wing prototype and setting up the capability to indigenise remaining C-130J parts.
Through the years, the C-130J has logged over two million flight hours, delivered to more than 450 aircraft to about 25 operators in 21 Countries as 17 mission variants and has set 54 world aviation records.
"The requirements are not going down, rather sales have increased for C-130J especially with its medical capabilities displayed through the stormy last year. Going further, more orders are expected globally which means more stabilisation and predictability for the airlifter and hence more opportunities for countries to connect with India for empennages. From the USA to New Zealand, France, Germany, Bahrain, Bangladesh and many more countries are making use of the C-130J airlifter's wide range of services," said Rich Johnston, Director of International Business Development, Lockheed Martin Aeronautics.
Johnston highlighted that the multi-mission capabilities of the C-130J aircraft make it a preferred choice for so many of its customers. Some of the many missions that this can carry include weather reconnaissance, special operations, aerial firefighting, rapid ground refueling, combat delivery, air drop, personnel transport and recovery, aero-medical evacuation, intelligence, surveillance & reconnaissance, commercial freighter, humanitarian, etc. The C-130J has been an extensive part of Indian government's vaccination drive as well and has been utilised globally during the pandemic for various medical operations.
"One of the major missions that C-130J can be utilised for is firefighting because of its straight wings, and turboprop engines. It is a very stable aircraft and can fly very low and provide instant power," stated Johnston. We have been in dialogues with the Government of India especially regarding the C-130J's firefighting capability, meteorological support, he added.
Putting forth some key areas that India can look at for the C-130J, Johnston listed the following points:
Weather reconnaissance as the airlifter can collect vital tropical cyclone, winter storm data and also has the capability to instantly relay meteorological data by satellite.
Environmental monitoring owing to its spectral sensors for pollutant detection and characterisation as well as the Line-of-sight (LOS), Beyond Line of Sight voice, data and video links.
Aerial spray given its self-contained roll-on/ roll-off modular aerial spray systems.
Aero medical evacuation with ability to transport up to 18 ambulatory patients/ 4 critical care patients, ample work area with proper lighting, self-contained patient oxygen system and clean environment with separate medical staff area.